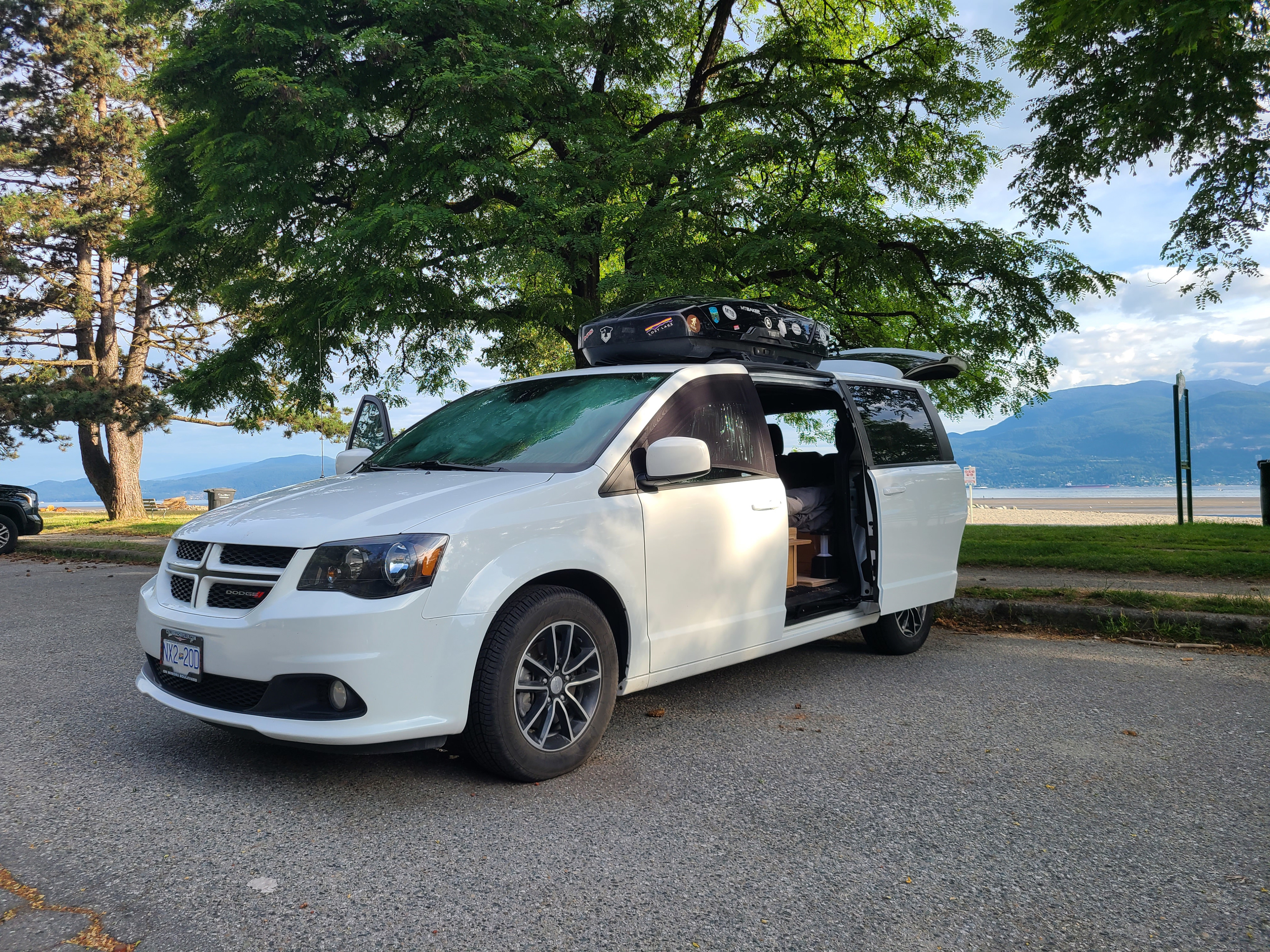 5
Membre Outdoorsy
Hôte depuis juillet 2022
---
---
Taux de réponse 88 %
Répond généralement en moins de 12 heures
À propos de Katy & Thomas
We own a luxury micro-RV fleet of 1 (currently)! We are trying to bridge the gap between camping and and RVs - enabling for an easy drive and simple set-up, but with all the comforts of home like your bigger motor-homes!
5
Membre Outdoorsy
Hôte depuis juillet 2022
---
---
Taux de réponse 88 %
Répond généralement en moins de 12 heures
---
Souvenirs de séjours avec les camping-car de Katy & Thomas
---
The perfect vehicle for going on an adventure. I loved my experience with this car. System for getting water is great and everything is easy to access. I recommend it to anyone who wants to save money.
Amazing experience with the "grand glamper" ! We went to the Rockies and back without any issues. The van was perfect, thanks again Katy and Thomas !
1 Photo soumise(s) par Lucas R.
Caroline H.
5•juillet 2023
100% recommend renting Katy & Thomas's Grand Glamper Van!! Not only are they both very helpful and nice, but they're also always available and reply quickly to any question you may have.
To top that off, their van is really well designed and thought through. We travelled 2 weeks in it all around BC and Vancouver island and it was perfect! It's not too big like other camper-vans so it's easy to drive and get around to different places, all while fitting plenty of luggage and stuff in it! (Keep in mind that it is not a 4WD, so we stayed off the logging roads though). The van is all decked up for cooking, eating and chilling and has a very comfortable bed for two (if you are over 6 feet tall you might be a little squished but it's really not that bad and works fine). The added plus is the little TV! We got to watch two movies which was great :) Overall we highly recommend renting this van!
3 Photos soumise(s) par Caroline H.
We had such an incredible trip in Thomas & Katy's Grand Glamper!! We spent 5 gorgeous nights camping around the Squamish and Whistler area. The sleeping area was big enough for me and my partner to sleep comfortably, even at my height of 6'2". The storage setup was super clever, which allowed us to store all of our belongings safely while we hiked during the daytime. The van was extremely well-equipped (it even came with olive oil, salt & pepper, and ground coffee!!) which made our experience even better. We were able to travel to some remote locations down well-maintained fire roads, which the van handled well. Katy and Thomas were wonderful hosts - excellent communication, and even recommended some special spots to visit in the Squamish area. If we're ever back in BC, we'd rent again from Katy and Thomas in a heartbeat!
5 Photos soumise(s) par Cooper E.
Could not have had a better experience for our first time camping in a van! Katy and Thomas were very responsive and really made sure that we had everything we needed for a successful trip. The van itself drives very well and was super comfortable! The awning was really nice to have, and all of the equipment included was straightforward to use and very efficient. We ended up with very cold weather on our camping trip but were totally fine with the blankets provided in the van. Would definitely rent from them again!
réponse de Katy & Thomas
Thank you so much Kayla and Alex! So pleased you had a wonderful time, and that you had everything you needed. Have a wonderful rest of your summer! Katy and Thomas
2 Photos soumise(s) par Kayla C.
Katy and thomas we an absolute pleasure to deal with from start to finish. The camper is just fantastic- they really have thought of everything. All you need is yourself and you're good to go😀 we look forward to renting it again very soon! Thank you again katy and thomas!
réponse de Katy & Thomas
Thank you Margaret for this lovely review! We look forward to having you rent from us again too :), enjoy the rest of your B.C. summer 🌞
Wow! An unforgettable adventure in the "Grand Glamper." Our experience with Katy & Thomas was top notch. They spent time with us ensuring we were comfortable & answered any questions we had, and explained everything to us thoroughly. The van itself was great to drive, and had everything you could think of & need. The bed was comfortable and easy to set up, and the warm duvet (& extra blankets) were great for our colder nights! The window coverings provided us with a complete black
Out experience, which allowed us to sleep in a little and made us feel comfortable in the van, no matter where we were. Cooking in the van was great, and we found it helpful having the trunk of the van as an awning. The yeti cooler was easy to access and was more than enough space for 9 days of fridge storage. Speaking of storage- there were endless spots to place our stuff throughout the van- which helped us keep the space tidy and organized. The Thule rack was AMAZING for our luggage! 10/10 recommend! Thank you K & T!
réponse de Katy & Thomas
Thank you Stephanie for such a wonderful review!! We are so so happy you had such an amazing adventure and trip of a lifetime in the Grand Glamper, despite the rain! Great to hear about your travels. Wishing you all the best on converting your own van in the future. Take care, Katy and Thomas. X
1 Photo soumise(s) par Stephanie T.
Katy was informative about the vehicle. The vehicle has everything we need. Being able to cook in the back of the car was great when it is raining. The unlimited kilometer is a huge bonus. Overall the whole experience was amazing. 5 stars to both Katy and the vehicle.
The Grand Glamper was the perfect choice for my girlfriend and I's week long trip from Vancouver to Banff to Jasper. Katie was pretty much the sweetest person I ever met, and the van was a dream. It has everything you could possibly need and a really comfy bed. We absolutely will be renting the grand glamper again for future road trips.
9 Photos soumise(s) par Ezekiel Barry S.
Katy & Thomas put so much love and effort in the campervan! It contains everything you need for comfy camping.
Also they are such lovely and friendly personalities! I had great three weeks with the campervan and I would do it again.
Thank you very much!

1 Photo soumise(s) par Marion S.
Katy and Thomas were great in communication and making sure that we had everything ready for our trip. We loved the caravan and so convenient to have it for our adventures through Vancouver Island. I would definitely book this car again for my next trip :)
4 Photos soumise(s) par Elnaz R.
AMAZING ! Fist of all Katy and Thomas are the best owners that you can get! Fast answer, patient and they care a lot of your wellbeing in the van. Then the car is amazing... why? Cause you get EVERYTHING you need & more just bring you and your hiking shoes. Also it's so easy to drive, super smooth, confortable to drive and live in, and CHEAP on gas ! We went thru the ferry, gravel roads and highway everything went perfectly.
Delightful vacations in the grand glamper , I recommend 300%
3 Photos soumise(s) par Julie P.