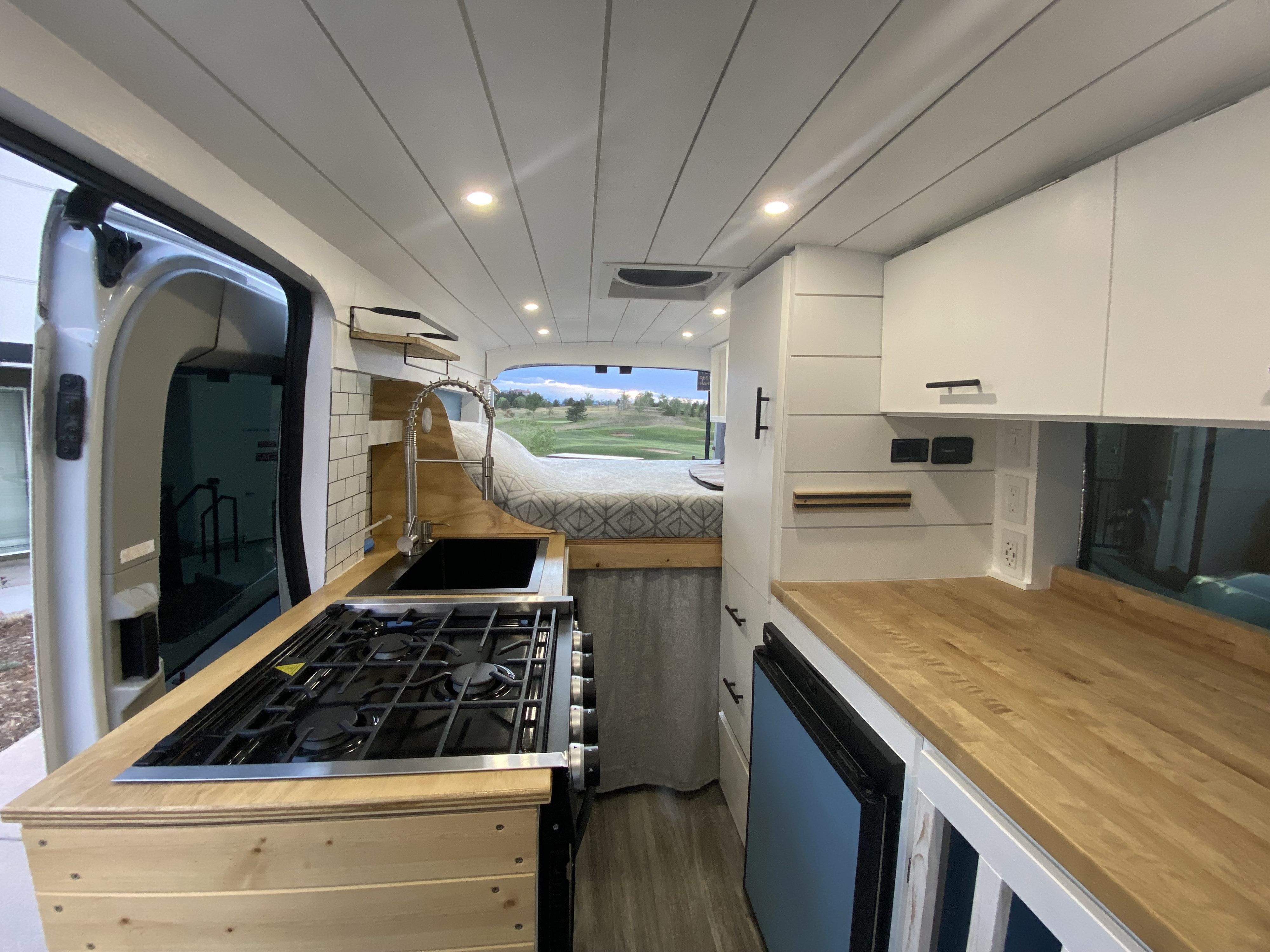 5
Membre Outdoorsy
Hôte depuis avril 2022
---
---
Taux de réponse 100 %
Répond généralement en moins de 6 heures
À propos de Szilvia and John Clay
Hello there and thanks for checking in! We are an outdoorsy family who loves to give and create memorable experiences. We have lived in beautiful Colorado for 7+ years now, and have always been eager to spend as much time outdoors, as one can. For this purpose, we spent months and months to build out our own conversion, with our two hands, and luxury convenience and functionality in mind. We took a leap and decided to make dreams come through, and traveled along the west coast for 3 months. This was such a life-changing experience for us, that we thought everyone should have the opportunity to experience such. And that is why we are here. :) Our adventures would not have been the same without our pup, Winston. We designed our van to provide convenience and safety to our best friends. We love our van and are excited to share our kind of exploring with you. Szilvia, John and Winston
5
Membre Outdoorsy
Hôte depuis avril 2022
---
---
Taux de réponse 100 %
Répond généralement en moins de 6 heures
---
Souvenirs de séjours avec les camping-car de Szilvia and John Clay
---
Cannot say enough good things about our rental. Before, during and after was such a smooth and helpful process. They offered an idea for transportation after landing at the airport and arriving to pick up the van. We were shown how everything in the van worked so we were completely confident before we took off. We could tell immediately how much they took pride in wanting us to have the best vacation and experience with how much thought they put into the little details that go along with the van life. It was a nice little bonus finding out the van was pet friendly so our little long haired dachshund could tag along for the adventure. We loved the outdoor shower but really loved the propane stove! So easy to open the side door, cook our meals and have an awesome view of the scenery the West has to offer. We had no problems during our trip but I know if we did they would be there to offer assistance quickly. . Dropping the van off was another smooth and easy process. I know if and when we make it back over to the west we will for sure love to rent this van again.
I couldn't recommend this can any more. Communication was excellent, the van was spotless, and it had everything needed for an adventure! Thanks so much 😀
réponse de Szilvia and John
Thank you Madison, we are so very glad to hear that you had a great experience! We feel fortunate to be part of your adventures and hope that this is something you'll always remember! We loved hosting you and hope to see you again in the future!
We had a wonderful trip in this van! The owners were so incredibly nice, helpful and accommodating. The van was impeccably clean, had tons of power for all of our electronics, water for the entire trip and all the amenities we could need for our 4-day fall excursion. We will definitely recommend this listing to our friends and can't want to get out on the road again. Thank you so much for letting us rent your van - we had an amazing time!
3 Photos soumise(s) par Jamie P.
Renting from Szilvia and John was super easy. They give detailed info about the van in the description and responded clearly and quickly to all our questions. Plus they did these great YouTube videos to help better visualize how things work.
As experienced van travellers, we found their rig to be efficient, comfortable and easy to drive and manage. It's perfectly equipped and very good-looking - we got so many compliments on "our" van!
An A-plus-plus experience!
2 Photos soumise(s) par Nancy L.
Jamaya H.
5•septembre 2022
Had a great trip in this cozy van!
Such a great experience! Szilvia and John were wonderful hosts and so knowledgeable. You can tell they are passionate about van life and have thought of even the smallest details to make it more homey and accommodating. When we had questions they were only a text away and were so wonderful. We had everything we needed and it was so comfortable and easy to drive/use. I 10/10 would recommend!