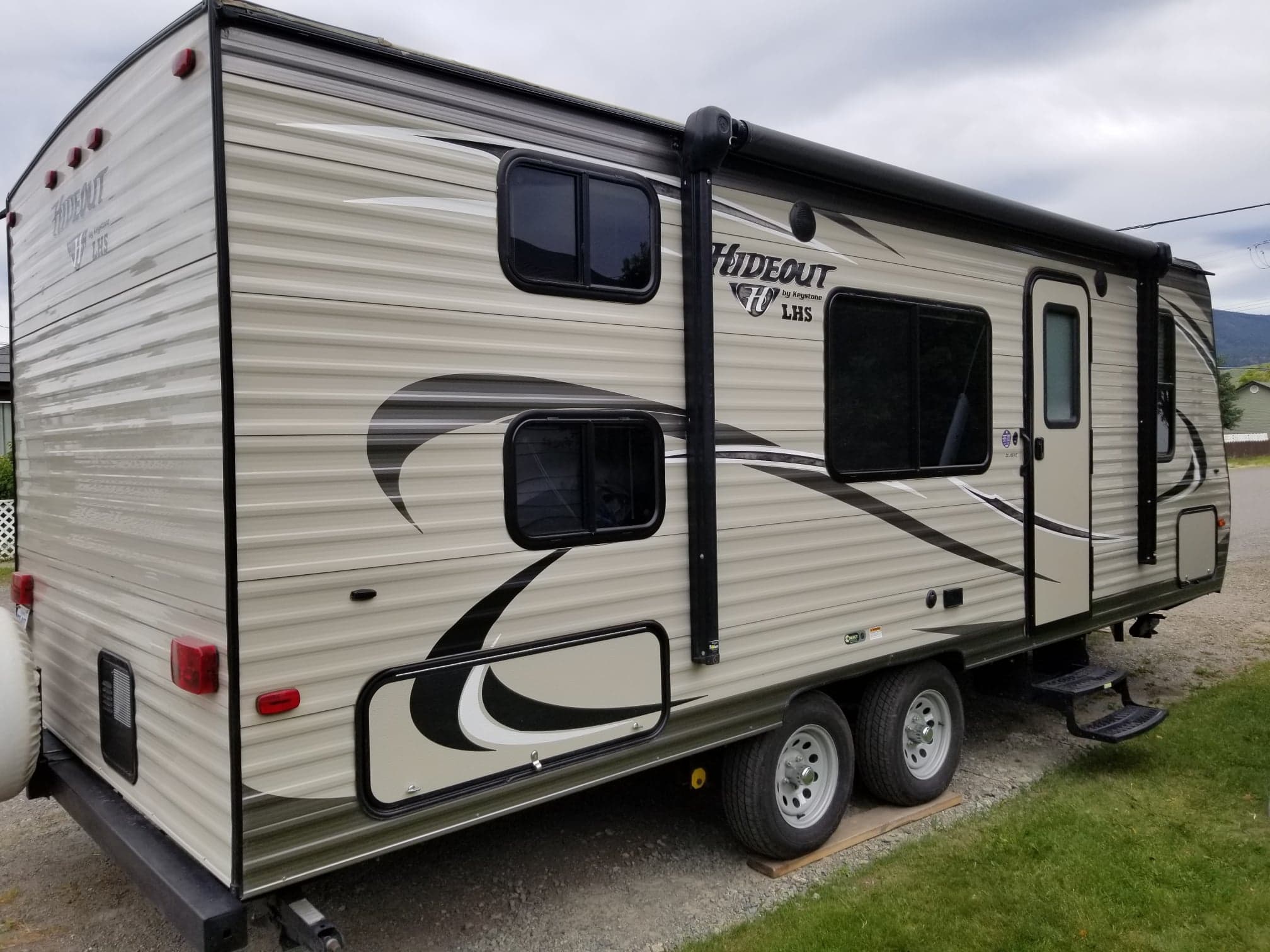 5
Membre Outdoorsy
Hôte depuis juin 2019
---
---
Taux de réponse 100 %
Répond généralement en moins de 6 heures
À propos de Amanda Billy
We love the outdoors, and like the idea of sharing our unit so others can have amazing experiences too!
5
Membre Outdoorsy
Hôte depuis juin 2019
---
---
Taux de réponse 100 %
Répond généralement en moins de 6 heures
---
Souvenirs de séjours avec les camping-car de Amanda Billy
---
Our hosts were amazing anf informative. The unit was clean and beautiful to stay in.
Kathrine D.
5•septembre 2022
Amanda was wonderful. I was new at this and she helped me all the way. Great people to rent trailer from.
Had a great experience working with Amanda. She was always quick to respond. The trailer was dropped off and picked up at the campsite which made it very convenient for us. It was clean and had everything we needed. The bed was comfortable and was perfect for our needs. An overall great experience
We rented Amanda's trailer for a family reunion weekend in Kamloops. Amanda was very easy to work with and provided excellent instructions and guidance for the using the trailer. We so appreciated her being able to deliver the trailer to us and pick it up after our weekend.
So convenient and easy!
1 Photo soumise(s) par Joanne A.
Amanda was a wonderful host/operator. Right from first contact, Amanda provided clear details and answered all our questions. The trailer was clean and had all the extra comforts needed for the stay. Delivery and pick-up was right on time. I will book through her again. Thank you.
Amanda was awesome to deal with right from the start. I had ZERO experience with RVs and Amanda eased any concerns. The delivery and pick up were right on time! Can't recommend enough! Great value.
The RV was very clean and tidy. Amanda was very responsive to our questions and incredibly helpful, courteous and professional. I would definitely rent the RV from her again.
Great unit that comfortably sleeps everyone.
1 Photo soumise(s) par Mer R.
I can't say enough good things about Amanda & her amazing trailer. Amanda was very easy to communicate with and get a hold of, had everything spotless inside the trailer, and was super professional and lovely when we met her in person. Our family had an amazing camping trip and will be renting from her again soon.
Amanda was great to deal, very accommodating and quick to respond. Surpassed our expectations!! Would definitely rent from her again.
She was really awesome. Great communicator and went above and beyond to ensure a pleasant trip. The trailer was so clean it could have been brand new and when I left I didn't have a doubt about how anything worked.
3 Photos soumise(s) par Joe B.
Amanda and her Trailer were top quality. Amanda was excellent at communicating to my many questions, she was thorough with information and was super helpful during the set up and demo's of how to use the trailer.
The trailer is in excellent condition and very comfortable. I would rent this trailer again and again!!
1 Photo soumise(s) par Marilia M.
Amanda was an absolute pleasure to deal with! She was always quick to respond and very helpful with each request! The trailer was perfect and exactly as described and shown! Highly recommended!! Thanks again!
Bernadeth &.
5•juillet 2019
We have a great time even with rainy weather. It's great to have an amazing trailer owners like Amanda and Sonny. Amanda always respond right away if you have any questions on renting their trailer. Thanks Amanda to make our trip easier!!
Angelina H.
5•juillet 2019
Amanda was great to deal with from beginning to end! The trailer was fully stocked with everything you would need and more. There was a small welcome gift which had a few road trip snacks which was greatly appreciated.