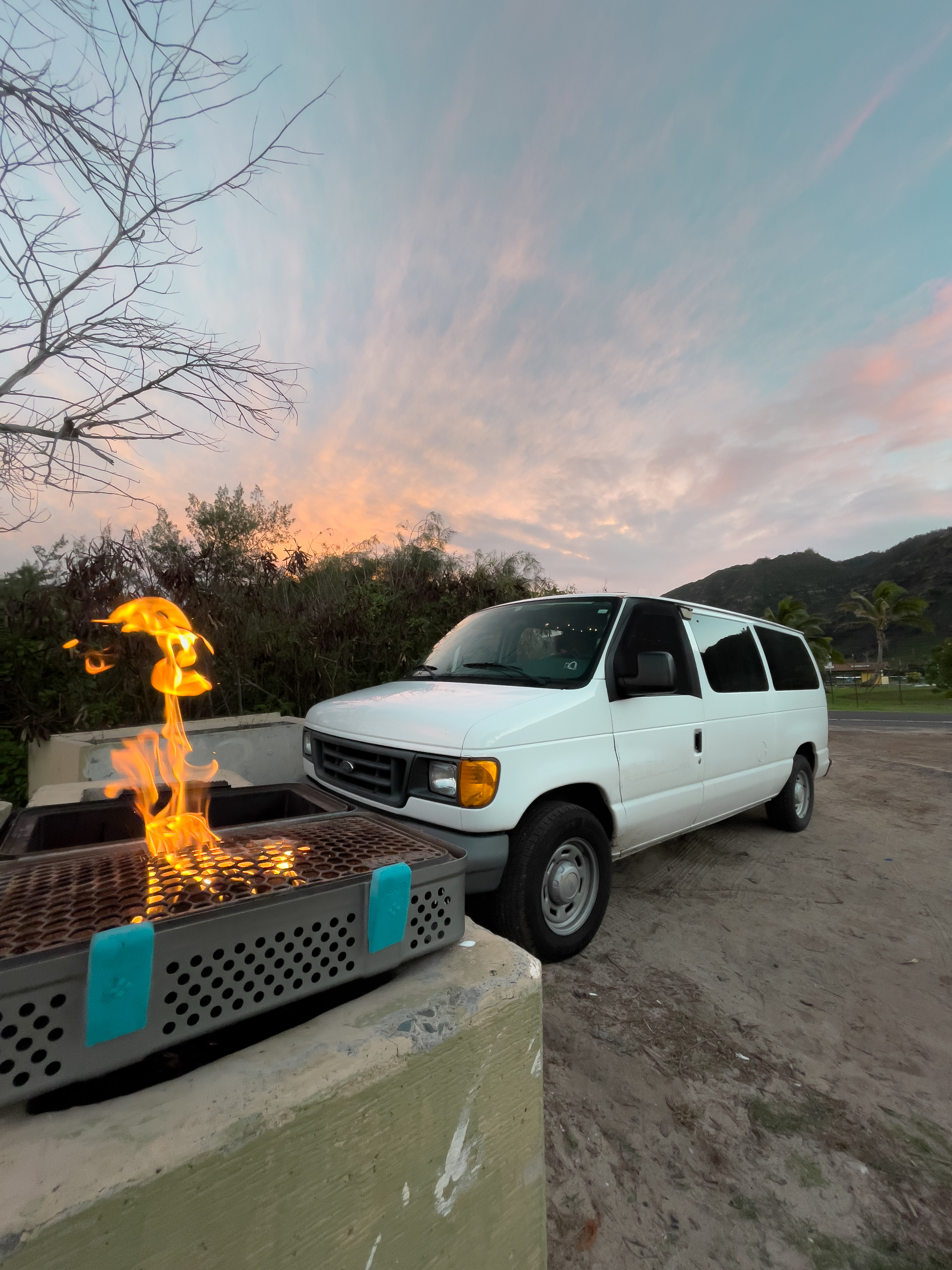 4.9
Membre Outdoorsy
Hôte depuis décembre 2021
---
---
Taux de réponse 66 %
Répond généralement en moins de 12 heures
À propos de Strat Streetman
We shoot photo and video professionally and have expanded into the van rental industry!
4.9
Membre Outdoorsy
Hôte depuis décembre 2021
---
---
Taux de réponse 66 %
Répond généralement en moins de 12 heures
---
Souvenirs de séjours avec les camping-car de Strat Streetman
---
Strat is an nice, easygoing person, communication was top!
the mechanical condition of the van was okay but he seemed to take care of his van so probably it was some renters before us who didn't really take care.
also the bed is pretty small for ppl. over 170cm
otherwise we had all we needed for our trip! Thanks Strat!

Maximiliano D.
5•juin 2023
Strat is an amazing host! Super chill and he was very helpful all the time. 100% recommended!
We had an amazing trip, the van was the perfect way to explore Maui. It was really well appointed with everything we needed. Strat was easy to communicate with and pickup and drop off was a breeze.
Great to park anywhere, very comfy. Room for all your gear. Super chill owner!
Astonishing experience. Strat provided excellent communication, flexibility, and the ultimate van to tour around the island. This sleeper hit boasts everything you need for the adventurous road trip you're likely seeking on Maui. The best part of this experience was the simplicity that matched our needs perfectly and allowed us to focus on making our own experience without worrying about our transportation or where we were staying any night. Definitely would rent again if we return to the island!!
1 Photo soumise(s) par Collin B.
This was the perfect adventure mobile!! Big thank you!!
Sherlane Y.
5•février 2023
Amazing van and great experience renting from Strat! Simple and clean with everything you might need, Da Koa Van was the perfect adventure home for our week in Maui. She took the road to Hana like a champ and gave us many a beautiful night under the stars. Strat had great communication, answered any questions/ needs quickly, and overall was lovely to work with. Definitely recommend this sweet little van :)
Great experience! Pickup and drop off in Kihei was easy and straightforward, and it was simple to get our bearings of the van. We drove it with no issues to Hana and past to Kipahulu, although definitely took care when the road narrowed and roughened up. Strat was very thoughtful with his build - everything we needed was already there. The bed was super comfy for me (5' 4") and comfy but a tiny bit short for my partner (5'11"). However, by the second night, we cozied right in! Would definitely rent from Strat again.
This camper van exceeded our expectations. From pickup to drop off the process was so smooth. Strat went through every detail of the van at pick and was very responsive throughout. The AC is superb and the bed is super comfy. 10/10 would recommend!
We had the adventure of a lifetime in this rental! It had just what we needed with beach towels, chairs, ac, and battery chargers! We were able to drive all around the island! There was a thunderstorm that lasted a couple of days and the heavy rainfall caused the back door to leak quite a bit of water onto the mattress but it was warm at night so NBD. Strat is a wonderful host and was very great to work with. I would definitely rent this van for another epic adventure on Maui!
5 Photos soumise(s) par Laurie B.
Samantha G.
5•octobre 2022
Great van for a short trip to Maui, stocked with everything we needed!
Braylisa M.
0•juillet 2022
Strat Streetman canceled the booking 1 day before departure. This is an automated posting.
10/10 recommend this RV! My partner and I were very new to renting RVs and the one we initially had lined up fell through. Strat prepared the RV for us within a few hours and the van was honestly a treat. It was clean and thoughtfully planned out - it had everything we needed - from an inverter to charge our phones and portable cooling devices, to general camping gear like chairs and a portable stove. This experience has made the two of us want to explore RV renting more in the future which is testament to our experience with this van - it really was a great way to travel the island. Strat was super helpful and responded to our messages very promptly and even came out to help us jumpstart the van when the battery ran out one day (we accidentally left the headlights on). Overall, we had a great experience with both the RV and Strat and would definitely rent it again if we were to come back to Hawaii!
Strat was really great to communicate with. Over all the van is nice, the bed is a little small for anyone over 5'11. There is a small leak in the back right but Strat is onto it. If you have campgrounds booked I think a van is the best way to see Oahu, stealth camping isn't appreciated by locals.