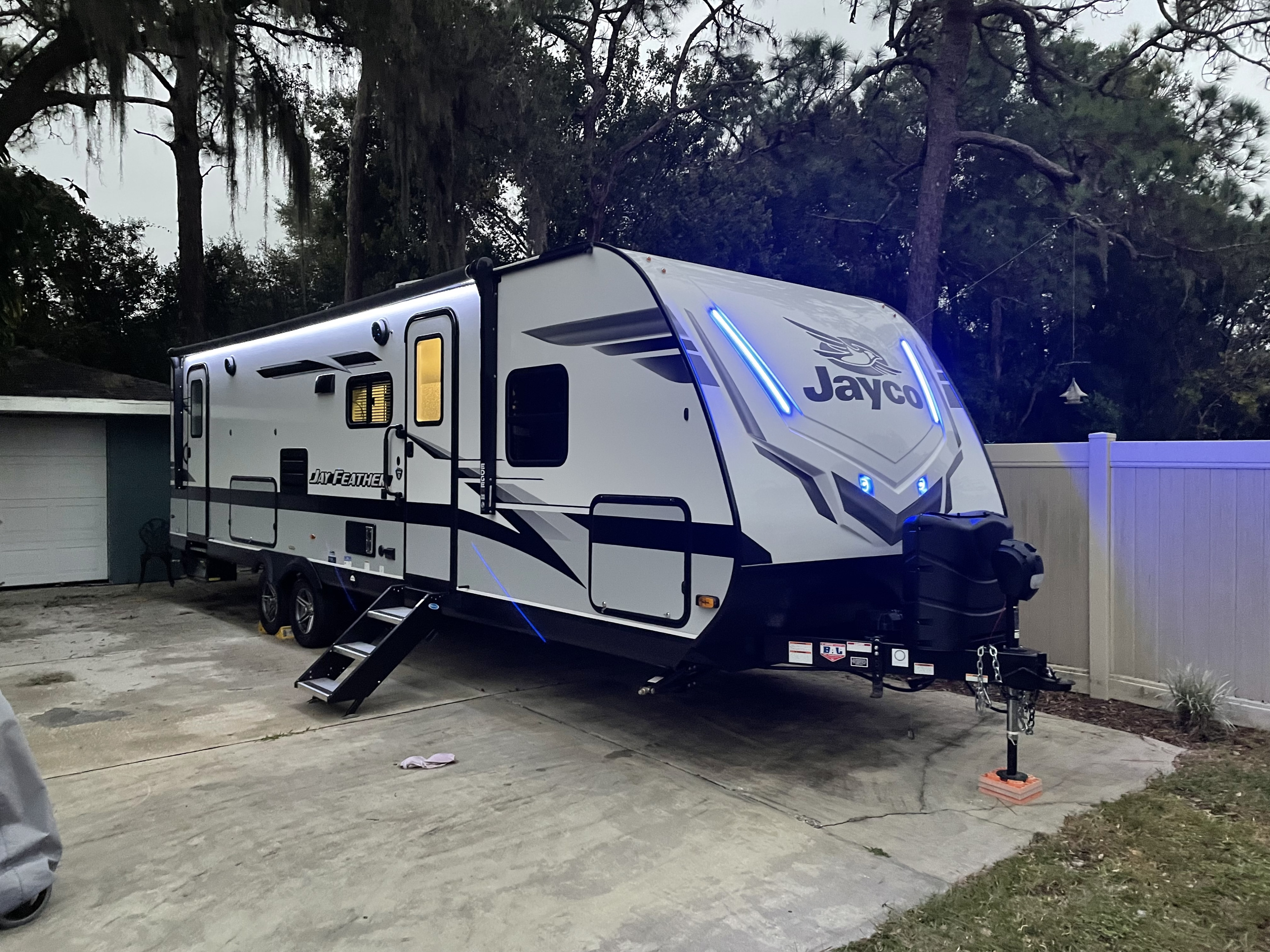 5
Membre Outdoorsy
Hôte depuis novembre 2021
---
---
Taux de réponse 100 %
Répond habituellement en moins d'une heure
À propos de Scott & Katina Deemer
5
Membre Outdoorsy
Hôte depuis novembre 2021
---
---
Taux de réponse 100 %
Répond habituellement en moins d'une heure
---
Souvenirs de séjours avec les camping-car de Scott & Katina Deemer
---
Scott and Katina are very responsive with any questions or concerns and were pleasant every conversation we had. The travel trailer was very lovely and fun to stay in while my husband and I were at Disney. Very roomy and will make you feel right at home. I highly recommend this travel trailer as well as Scott and Katina.
Best outdoorsy experience so far. Like new unit with everything you need included and Super clean. We will definitely be renting this unit again. Thank you for letting us enjoy your pamper camper!
After many days of searching and reviewing pictures of multiple RV's Scott & Katina's pamper camper stood out.
Scott won me over when I was able to communicate with him via phone rather than having to send numerous emails and owner messages back and forth.
This made the entire reservation process effortless. He is transparent and communicates well even after the booking. When I receive the photo of the RV with the caption "She's all shine and ready for you" I knew I had made the right choice.
He was punctual with the drop-off and pickup. His instruction was very clear and concise with the assurity that he was only a phone call away. Which he was.
The pamper camper was clean and picture-perfect, hard to believe I was camping. He showed his thoughtfulness with a bottle of wine. I highly recommend Scott & Katina's pamper camper which for me has a rating 10/10.
I look forward to using their pamper camper again.
réponse de Scott & Katina
Wow, what a flattering review, we are so happy you had a great time, and glad we could share our camper with you.
We had a wonderful stay in Scott and Katrina's RV. It was immaculate, comfortable, well stocked and perfect for our family. We worked with them to have it dropped off at the campground, Scott set it up and took us through everything we needed to know. I would highly recommend this RV and renting from Scott and Katrina!
I rented this RV for my daughter's 30 birthday and it made the weekend. Scott delivered and set the RV up in a timely manner and it was truly all the comforts of home. For any questions that I may have had, he was right on the other end of the phone helping us out. All in all, you can't go wrong with this RV; Scott and Katrina are awesome!
Awesome time highly recommend!!!!
3 Photos soumise(s) par Raymond R.
The Pamper Camper was the perfect home away from home for our stay in Fort McCoy, FL. Scott and Katina thought about every detail to make our stay extra smooth and enjoyable. The camper was clean and well maintained. My family and I will definitely try to book this camper for our next adventure.
1 Photo soumise(s) par Viviana T.
Owner was awesome! Rv was clean and looked just like the photos. It was loaded up with everything you need for a fun weekend. Will be renting again!
Definitely a great experience. Scott was extremely helpful and treated my brother and myself as if we had know one another for years. Made the whole weekend very comfortable. Camper was amazing, clean and everything work perfectly which was a good thing as our annual 24 at Daytona trip fell on the coldest weekend in years so the furnace and water heater were a necessity. So if your looking for a camping getaway I highly recommend booking with Scott and Katina. I know I will use them next year. Thanks guys......
Christopher K.
5•janvier 2022
Everything was great. Camper was clean and Scott was very helpful with whatever I needed.
We had a great time. The RV was extremely clean and comfortable. The communication and support we received from Scott was amazing. We will be using them again for sure. Thank you Scott and Katina for making our camping experience so special.