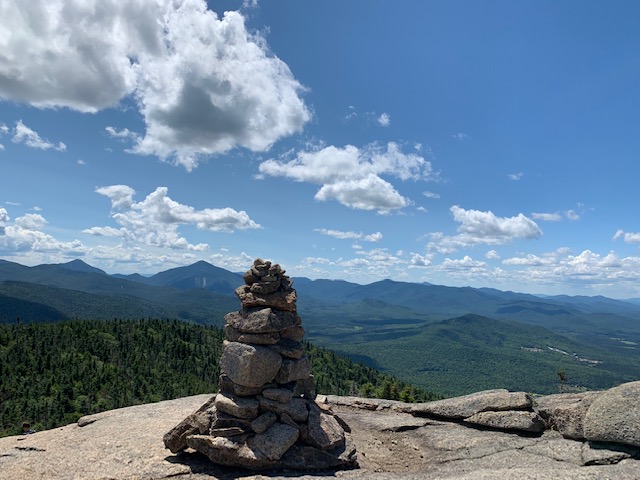 5
Membre Outdoorsy
Hôte depuis juillet 2021
---
---
Taux de réponse 100 %
Répond généralement en moins de 6 heures
À propos de Ally VanGlahn
Hi, I'm Ally. I love hiking, exploring new places and being in nature, something about it is good for the soul :) I want to encourage people to venture out and enjoy what nature has to offer.
5
Membre Outdoorsy
Hôte depuis juillet 2021
---
---
Taux de réponse 100 %
Répond généralement en moins de 6 heures
---
Souvenirs de séjours avec les camping-car de Ally VanGlahn
---
Ally was great, always available for questions, and I had ALOT. Vehicle was perfect and had some supplies stocked along with pillows, blankets and towels and some snacks too! The bed was comfortable under the fan/air conditioner. She included a microwave that I used alot.
10 Photos soumise(s) par Laura S.
We rented Ally's van at the end of April for a family road trip from NJ, through PA, the Shenandoah Valley, the Blue Ridge Parkway in NC, down to Savannah, and back up to VA and NJ. This was our first time ever doing anything like this and we had the BEST time. Ally's van, which our three year old affectionately called "the red van," fit our family of four perfectly. Our three year old slept in the pop up with her dad and I slept in the main bed with our one year old. The two passenger seats fit one rear and one forward facing car seat perfectly and we were all very comfortable driving. The space worked very well for us and there was plenty of storage space for all of our things, including strollers and toys, for 8 nights and 9 days. Everything was easy to access and easy to use. We watched a lot of youtube videos and read up on the van, even going to a winnebago dealer twice prior to our trip, so we felt very comfortable with the van. Ally was amazing to work with. She was very kind and helpful, always answering our questions very quickly, before and during the trip. Ally was extremely accommodating to our needs as a busy family with a busy schedule and was flexible with our booking. We cannot say enough positive things about our experience with Ally or the red van. It was such a special trip that created so many happy memories for us and we highly recommend a trip like this, even as a young family. Can't wait for another trip with the red van!
The engineering of the Winnebago Solis 59PX is quite impressive. The functionality packed into this class B RV made our trip comfortable and trouble free. We travelled in sun, rain, wind and even snow flurries, with temperatures from the low 80's to the mid 20's, and the Solis handled well on the road and solidly at the campsites, with and without hookups. The only negative aspect of the Solis is that the bed is a bit small for someone my size, 6'2".
2 Photos soumise(s) par Edward D.
I want to give host Ally: 5 stars out of 5
All aspects of the rental were 5 out of 5.
This RV rental was a surprise present for my wife, and it did not disappoint. Renting the RV from Ally was a pleasure. The Winnebago was in new condition. Ally took the time to show us all of the RVs features, and we enjoyed traveling to scenic spots in Pennsylvania, New Jersey, Delaware and Maryland. The RV performed perfectly and we had no problems or complaints with our rental. Ally is super host and highly recommend renting her RV.
The van is amazing and Aly is awesome. The drop off and pick up was super easy and Aly was so nice and helpful. The van was clean and in perfect condition. We had the best week exploring West Virginia and Virginia. 5 stars !!!
3 Photos soumise(s) par Christine S.
Perfect, as described in the listing. Wonderful people to rent from. 10/10

Nathalie M.
5•octobre 2022
The Winnebago was fabulous, given to us in perfect shape, clean and also Ally provided great instructions and was available whenever we had questions.
Rachel C.
5•septembre 2022
Amazing long weekend with camper. Everything was as described and very user friendly. Ally was great and made everything so easy- she really thought of everything you could need while using the camper and it's full stocked. It was also extremely clean and pick up and drop off were very easy.
"Absolutely loved our experience with Ally's van. It was in impeccable condition. She walked me through all the ins and outs on how to use it. Our entire family - 2 kids and my partner and I - had a blast and can't wait to rent it again. We're so appreciative to Ally for her flexibility and for the beautiful condition of everything … even the sweet touches with a snack and card inside. Can't recommend it more highly!
Our rental experience with Ally was excellent! She was very flexible in working with us when it came to mileage and very knowledgeable with explaining the ins and outs of the van. The van was perfect for our needs and we will definitely be renting from her again.
3 Photos soumise(s) par Mike G.
This van was exactly what we needed for our 4 day trip. Everything works perfectly. Ally explained how to use everything, and was super helpful and responsive. She really thought of everything you need to make sure you have a first class experience, from the equipment in the van, right down to the mileage allowance and generator usage. Can't recommend highly enough.
We had the most amazing experience renting a van from Ally.. The van was meticulous and her overview of the features was in helped us navigate a weekend in a Sprinter Van (whew).
Ally is a absolutely great host! Her van is in great shape, and stocked with everything you need for a trip! The van is very clean, and was a great van for our long weekend camping trip! Everything worked, and worked well. We had a great time. Ally was very responsive and a delight to work with! She walked us through everything and made sure we were comfortable using the van and all the sytems! If I rent a van again, this is the van and the host to rent from!!
Wow, what an awesome experience. The van was clean, well maintained and perfectly stocked with items for a smooth trip. We were thrilled the van got 15 miles per gallon on our trip ( we were on flat terrain most of the time). We are tall (6ft+) the pop-up sleeping area works nice for comfortable sleeping. It is so nice that Ally is willing to share her camper van so we can all enjoy it.
Kathleen O.
5•février 2022
The RV was in fabulous condition, very clean, organized. It is brand new. The owner was so lovely to work with, Friendly, informative and responsive. I would rent this RV again just because of the service level. Happy trails!!!
Ally and the Van are terrific. We traveled from Philadelphia to Key West. My husband, 24 yo son and 17.5 yo dog. The van was terrific, well stocked and Ally was so available. This was our first time with an RV, and she was patient and gave us confidence and all the information we needed. We will rent from Ally again!
1 Photo soumise(s) par Beulah T.