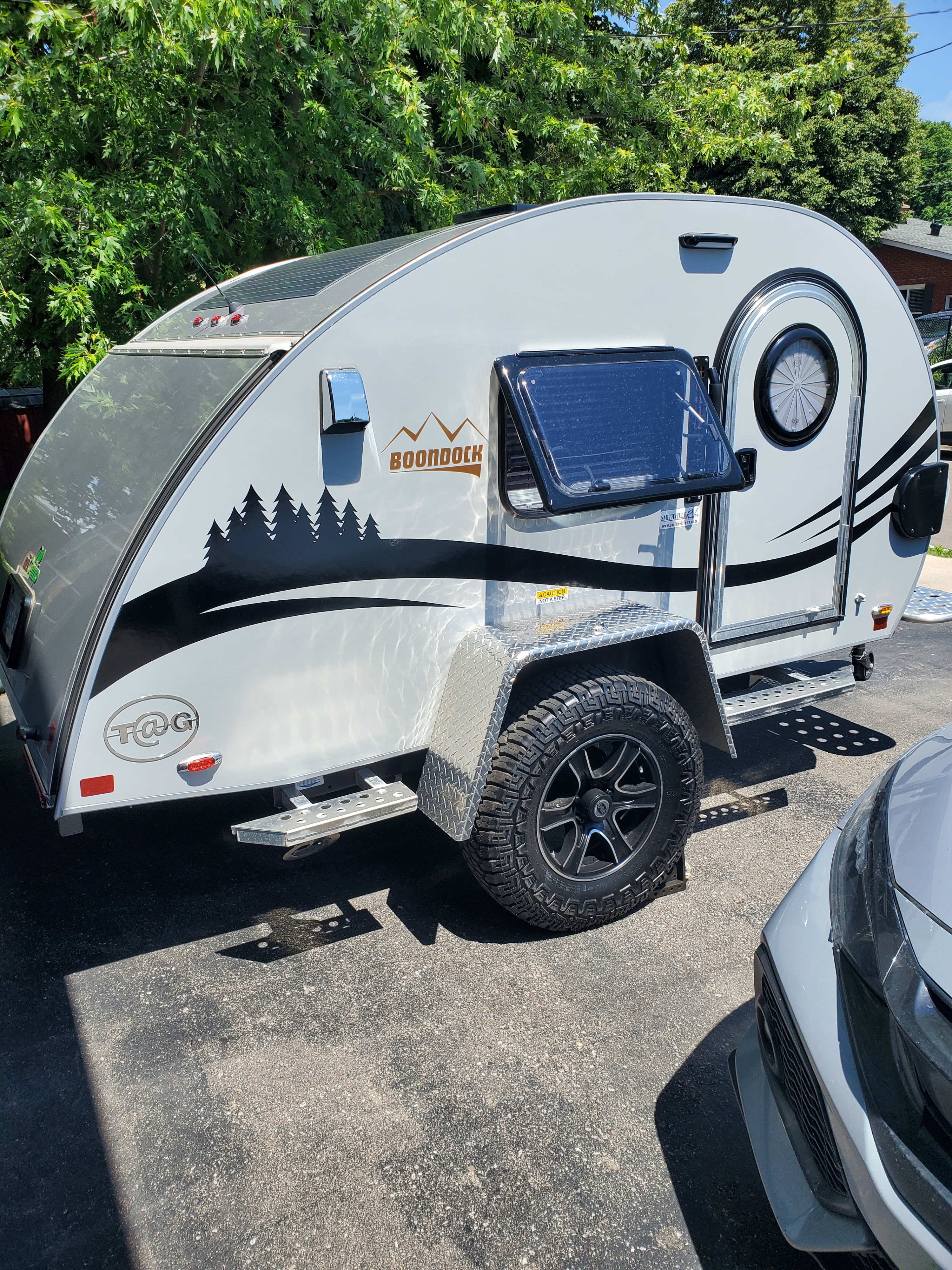 5
Membre Outdoorsy
Hôte depuis juin 2021
---
---
Taux de réponse 92 %
Répond généralement en moins de 6 heures
À propos de Neil Haigh
5
Membre Outdoorsy
Hôte depuis juin 2021
---
---
Taux de réponse 92 %
Répond généralement en moins de 6 heures
---
Souvenirs de séjours avec les camping-car de Neil Haigh
---
Neil and Penny are great hosts! We had an awesome time with their TAG XL camper. It came spankin' clean and had everything we didn't know we needed to enjoy the beauties of Algonquin. The heater definitely came in clutch! Thanks for a wonderful time and the goodie bag!
2 Photos soumise(s) par Desmond N.
Neil was great to work with, answered all of our questions, and we thoroughly enjoyed the trailer. It was easy to tow, modern and clean, everything we needed for our weekend trip! I highly recommend it! Several people came up to us in the campground to ask about the trailer! So cute!
1 Photo soumise(s) par Amy C.
The trailer was great. It was spotless. I loved the outdoor kitchen.
This is a great little trailer, very practical! It was our first towing experience. Neil explained to me everything I needed to know about the trailer, including how to hook it safely.
It was very easy pulling it with our Tesla Model 3 LR RWD, equipped with the tow hitch from Stealth Hitches. I used my own break controller but Neil had the same I could have used. It's a Bluetooth one that works with an app on the phone and it worked wonderfully. It always felt super safe. As expected, range on our EV was greatly affected: energy consumption was about 300 Wh/km at 80 km/h, and about 380 Wh/km at 100 km/h, meaning we got 40-50% of the original range, which is enough to make it between superchargers.
We did not have electricity at the campsite, unfortunately, so we did not use the A/C nor the heater, but the fan was sufficient to keep the trailer from becoming too hot even in full sun.
Neil and Penny were great, we highly recommend them and we look forward to renting their trailer again.
5 Photos soumise(s) par Greg and Julie T.
The trailer was awesome. All we expected and more. Easy to tow and saves lots of gas compared to a full size trailer. Lots of room inside with the king size bed and the air conditioner and heater kept us comfortable in Algonquin park weather. The outdoor kitchen was very functional. Expect lots of comments from admiring campers.
Martin M.
5•septembre 2021
My Partner and I had a fantastic time with our rental of the NuCamp TAG XL. Super clean and comfy. Neil and Penny provided an exceptional service. Highly recommend this trailer for any couple.