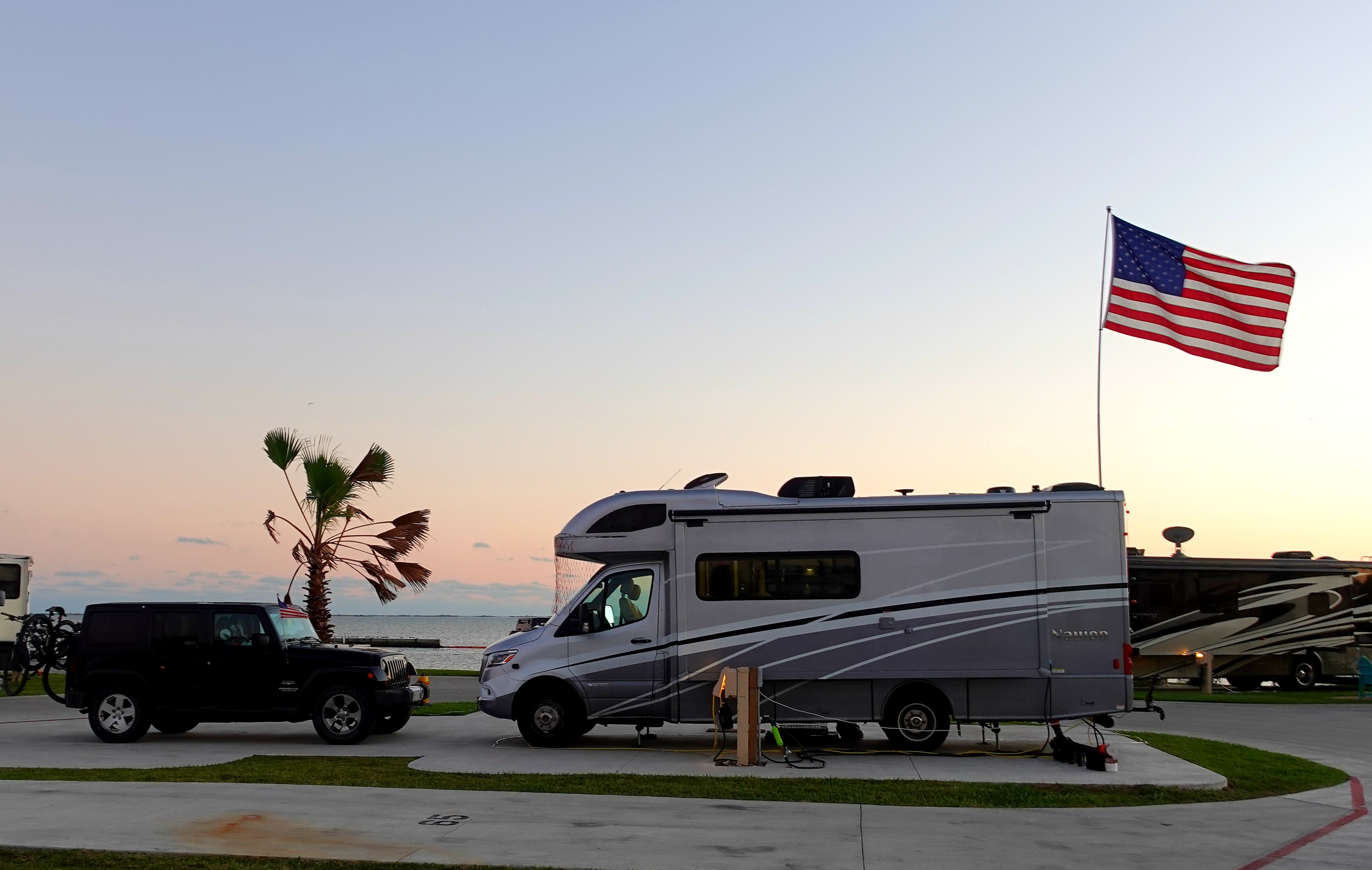 4.9
Membre Outdoorsy
Hôte depuis janvier 2021
---
---
Taux de réponse 49 %
Répond généralement en moins de 12 heures
À propos de Tory Sletten
My name is Tory and I am a Liberty Loving American that loves the great outdoors. I took a 6 month road trip across America and visited 45 National Parks and returned back home the day after Christmas 2021.
4.9
Membre Outdoorsy
Hôte depuis janvier 2021
---
---
Taux de réponse 49 %
Répond généralement en moins de 12 heures
---
Souvenirs de séjours avec les camping-car de Tory Sletten
---
Adrian C.
5•septembre 2023
Classy was a beauty. Me and my girlfriend rode to Georgia and stoped by a spring on the way back down. Staying in a rv park and watching the stars late at night was worth the whole experience. And classy took good care of us. Setting everything up was easy and Tory has videos he'll send you so you know how to set it all up. This RV was a perfect choice for our trip 👍
Great experience overall. Rv was smooth to drive and easy to setup. Everything worked as expected. Tory prepared excellent videos and did a thorough walkthrough at pickup. Would highly recommend.
4 Photos soumise(s) par Ewelina B.
Tory is a great host and if we had questions very easy to reach. We really had a dream vacation and Classy never let us down. It was our first RV trip and because of the asome experience hopefully the start of many more. Classy is easy to drive and set-up. Very comfortable, beds are great and AC works super (we had temperatures over 100 degrees so really imports). We made a lot of memories and can't thank Classy and Tory enough!
2 Photos soumise(s) par Bart V.
This trip was amazing the Rv was extremely comfortable and clean! We loved our host, Tory. Very helpful anytime we had a question during our trip! He was always available and taught us everything we needed to know before left our our trip. We recommend booking with Tory and we would book with him in any future trips as well.
3 Photos soumise(s) par Roberto R.
Tory was great! Very communicative. He had some very thorough introductory videos for us to watch before the trip which were helpful.
Renting an RV from Tory through Outdoorsy was an absolute pleasure! Tory was incredibly responsive, providing clear and friendly communication from the start. The RV was in pristine condition, well-maintained, and equipped with all the necessary amenities for a comfortable trip. Tory's dedication to customer satisfaction was evident throughout, as they were readily available to address any questions or concerns. The flexibility of the RV allowed me to explore stunning natural landscapes and create unforgettable memories. I highly recommend renting from Tory for an excellent and hassle-free RV adventure with Outdoorsy!
3 Photos soumise(s) par Katsiaryna R.
Tory Sletten canceled the booking 2 days before departure. This is an automated posting.
Troy was an excellent owner. He did a wonderful job walking me through the overall operation of the vehicle. As a newbie, I truly appreciated his help!. His vehicle had EVERYTHING a person could even desire for an RV trip; except a toaster. lol! So, I would highly recommend using Troy's RV! You definitely will NOT regret it!
6 Photos soumise(s) par Robert S.
Tory was great to work with! He was very responsive and patient. The RV is super well equipped. We traveled to Gatlinburg TN and Carrabelle Beach FL. This was our first RV experience and we had a wonderful time!
6 Photos soumise(s) par Carlos Q.
Awesome experience! Tory will explain you everything, 100% recommended
Poor in - service about the RV however thankful for earlier experience.
Tory was great to work with! He's responsive and accommodating. This was our first RV experience and he was very patient with answering all of our questions. We had a wonderful time!
Tory was a great very helpful the rv was in good shape and we will def use him again
Everything about this RV rental was perfect. Tory was very accessible via text if needed at any time. The murphy bed was amazingly comfortable, frankly the best RV bed I have slept on thus far (I like a firm mattress). I do not have a single negative comment to say, only positives all around. Thank you for letting us enjoy your RV for the week!
Tory and Roman were absolutely amazing to deal with! They explained everything and even were available to answer questions we had during the trip. We cannot wait to rent Classy again-she was awesome! Great family trip to the keys with our twins and golden retrievers. Camper was perfect!!
8 Photos soumise(s) par Amy C.