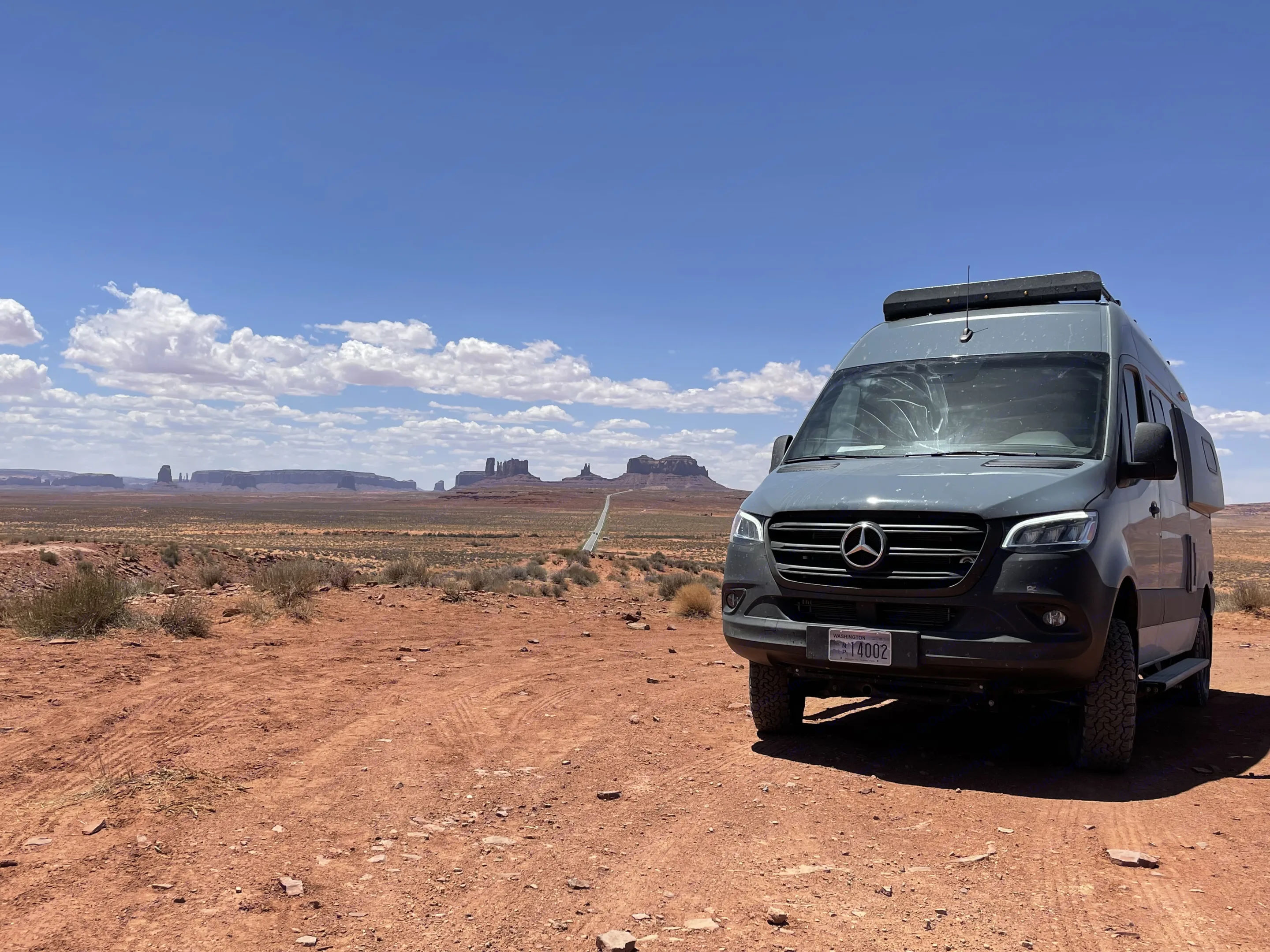 5
Membre Outdoorsy
Hôte depuis décembre 2020
---
---
Taux de réponse 100 %
Répond habituellement en moins d'une heure
À propos de Leslie and Tim Heikell
Being outdoors makes everything better. We love the outdoors. We love sightseeing and hiking. Oh, and dogs aren't bad either.
5
Membre Outdoorsy
Hôte depuis décembre 2020
---
---
Taux de réponse 100 %
Répond habituellement en moins d'une heure
---
Souvenirs de séjours avec les camping-car de Leslie and Tim Heikell
---
We loved out week in this van. Is was the perfect option for us to travel and see as much as we could!
Leslie and Tim were very responsive to my questions and flexible with pick up and drop off times. When I went to pick up the van, Tim did a great job walking me around and explaining how everything worked. Overall great experience, and would highly recommend renting from Tim and Leslie. We would rent from them again in a heart beat!
Leslie and Tim's van is amazing! Easy to drive and many comforts make it a pleasure to adventure in! Our hosts were supportive and clearly explained how to make the most of our trip. We loved the whole experience!
2 Photos soumise(s) par Paula P.
This rig was truly perfect for our two week PNW trip. It is well stocked with all camping necessities and is well maintained. We never ran out of power when we were off the grid- and if we were low a simple drive would charge us up! I loved not having to crank a generator up in serene places. Leslie and Tim were so awesome to work with. Highly recommend renting from them!
4 Photos soumise(s) par Shannon C.
Leslie and Tim were very responsive to communications and really took time to show us how to make the most of their van's features. We had a great trip and recommend this vehicle!
Great experience! Awesome vehicle! Very quick response to any questions & correspondence! Overall fantastic! 👍🏻
We had a fantastic weekend in this amazing van. Leslie and Tim were super helpful in getting us prepped and ready and extremely flexible on both ends. The van itself is in tip-top condition, and I'll definitely be renting it again.
We had SUCH a great experience driving this van! We ended up on some pretty windy and gusty coastal roads, we did not feel like we were ever truly at risk of tipping or losing control.
3 Photos soumise(s) par Jon L.
We were able to take the van to the mountains in the winter which was really nice, since a lot of vans are winterized for the season. The van drove great and the 4x4 option was a plus. The hosts were very helpful and thorough. I definitely would rent this van again.
The class B was exactly as described. We experienced a fantastic long weekend with her on the Olympic Peninsula. The van was in excellent condition, super clean and well stocked. The communication was super prompt and friendly. We'll definitely be renting again for future road trips!
3 Photos soumise(s) par Adam S.
Leslie and Tim were amazing! They were so thorough when we picked up the van, very available to answer questions while on the road, and super flexible. We dropped the van off a day early due to weather! The van itself was super clean and well stocked with essentials.
3 Photos soumise(s) par Claire S.
I loved my trip. The extra details that were added to the van made the trip more enjoyable. The upgraded bed was so comfortable. The host answered my questions during the orientation and made sure I was comfortable knowing where everything was and how things worked. I rented for only four days but wish it was more.
We rented the Revel for a photography trip down the Oregon coast, a swing over to the Bend area, and back up North. We could not have been happier with the choice. We were curious to rent one of these as we are interested in getting one ourselves. We liked that we did not have to be dependant on any hookups so we could stay flexible in our schedule. Most nights we just pulled into a spot and didn't even have to get out to do anything to set up for the night. The Revel is super easy to drive and park. It was cold the whole trip so unfortunately we didn't get to take advantage of the awning and the camp chairs and grill provided. Despite the cold outside we had zero issues running the heat overnight.
Leslie and Tim did a great job of explaining how everything works and were very responsive to any questions we had during the trip. The only thing we needed to get was food, everything else was already provided. You can tell that they are meticulous in taking care of the Revel. We had a hard time turning the keys back over to them and we will definitely rent from them again when we are out West.
4 Photos soumise(s) par Fred S.
This was an amazing experience! The 4X4 revel came equipped with everything you could need on a trip. All we had to do was get some groceries and drive! We took this on a week long adventure through Olympic and used as our base camp. It was amazing to come back to with hot water/AC/kitchen/the works! Leslie and Tim did an awesome job on walking us through everything, it was all very intuitive. Would certainly rent from again!
Leslie and Tim are an absolute delight. Incredibly responsive, helpful and accommodating.
Then there's the van and wow! Everything worked without a flaw. They also customized the bed which made sleeping a dream. 100% would recommend to anyone looking to venture around Washington.