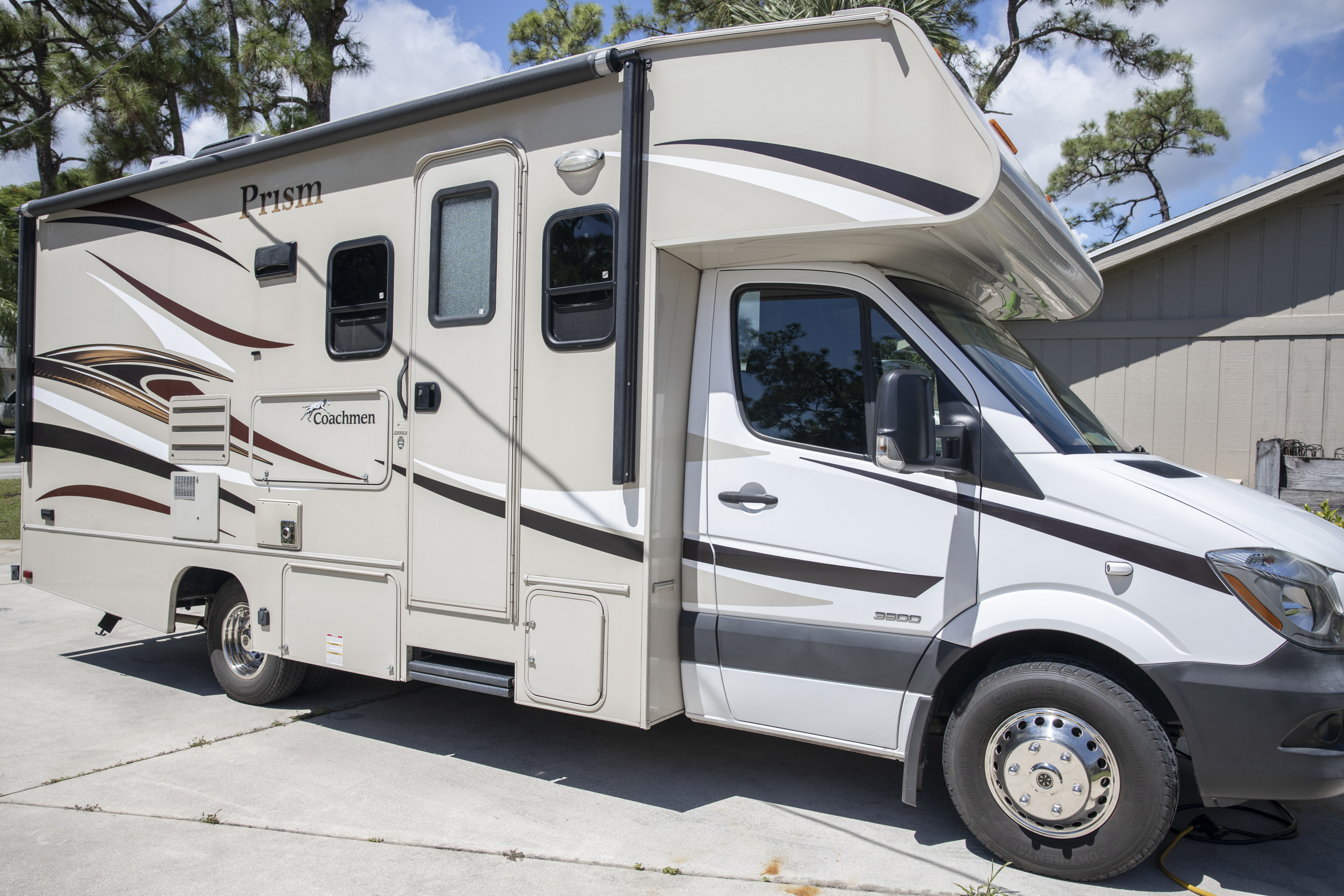 5
Membre Outdoorsy
Hôte depuis août 2020
---
---
Taux de réponse 97 %
Répond habituellement en moins d'une heure
À propos de Ellen Morris
Our family of 4 really loves life, with all it's beautiful sights and sounds. We are very, very thankful. We love to explore our beautiful state of Florida. We enjoy boating, fishing, mountain biking, swimming, snorkeling, entertaining guests and so much more. We cant wait to meet our fellow travelers and share our stories of adventure with one another.
5
Membre Outdoorsy
Hôte depuis août 2020
---
---
Taux de réponse 97 %
Répond habituellement en moins d'une heure
---
Souvenirs de séjours avec les camping-car de Ellen Morris
---
We really loved the RV, felt like home after the week we had it. Ellen and her husband were super helpful as it was our first time using an RV. They took the time to explain everything to us thoroughly on how to operate all machinery aboard.
Kimberly G.
5•janvier 2022
Amazing support! Highly recommend. Good fun:)
Relaxing accommodations.
1 Photo soumise(s) par Kimberly G.
From the first point of contact Ellen was attentive and shared information to make our trip easy to learn to use the RV. We didn't have experience and Ellen went through all the systems and processes to make it a breeze. It made all the difference in our trip. I highly recommend renting from these folks, they are fantastic!
We completed enjoyed our rental experience with Ellen. The RV was great and the instructions given at pickup were complete and well explained. I'll happily rent from Ellen again if the opportunity arises.
Ellen Morris canceled the booking 4 days before departure. This is an automated posting.
Neal and Ellen were perfect host. the camper had everything we needed and more. Had a great time at the Florida Keys. Wish I can give the Neal and Ellen 6 stars .
1 Photo soumise(s) par Ismael S.
It was amazing trip , owners been great in communication and easy to reach. Vehicle in excellent condition and very clean.
19 Photos soumise(s) par Alla B.
The RV was very well maintained and the owners did a fantastic job of walking us through everything. We had a fantastic vacation down in the Keys! Would definitely use them again in the future.
réponse de Ellen
Thank you Clayton for taking such great care of our RV, glad your trip to the Keys was great! Look forward to seeing your family again in the future!
2 Photos soumise(s) par Clayton S.
My wife and I are extremely pleased and happy with the attention and level of detail the owners took to explain all there was about the RV to us. They made us feel comfortable and safe. The RV was spacious enough for the 4 of us and easy to navigate and park just about anywhere- an advantage to the 25 footer. Looking forward to renting from them again
Ellen and her husband were amazing! They went through the RV with us in detail and answered all our questions. They were an absolute pleasure to work with! The RV itself was clean, ran perfect and everything on board operated perfectly. We would not hesitate to rent from Ellen again. Our trip was amazing!!!
Great small RV. Very clean and equipped. Great owners who were super helpful.
Ellen and Neil were so kind and helpful throughout the whole process. They definitely go above and beyond. The RV was absolutely perfect for our family of 4. It was an amazing experience with no issues whatsoever. Very easy RV to drive and set up.
réponse de Ellen
Thank you Brad for taking care of our RV so meticulously! We are so glad you enjoyed your adventure!
3 Photos soumise(s) par Brad C.
We had a great experience with this rental and Ellen was great to work with. They went over the RV with very good detail. Everything worked as described. The RV was very clean and well stocked.
We are grateful for the time both Ellen and Neil spent in explaining everything about the RV as this was our first time. We had an awesome family trip and would do it again!
The RV itself was clean, easy to drive, and had everything we needed for our family of 3.
réponse de Ellen
We enjoyed having you stay in our RV, thank you and your family for taking such great care of everything! We are glad you a great time!