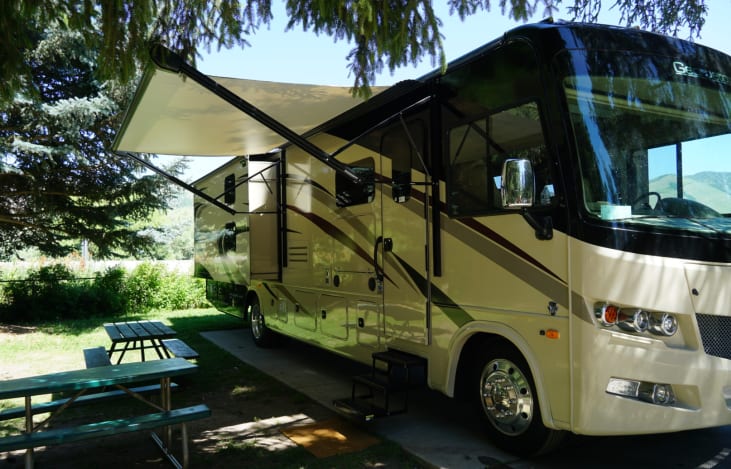 5
Membre Outdoorsy
Hôte depuis juin 2020
---
---
Taux de réponse 100 %
Répond généralement en moins de 6 heures
À propos de Weston Cordon
We are a young family with 2 small boys that love to play outside. You will most likely find our boys collecting rocks, and you can find mom and dad putting them back again. We love to cook and play games. I work from "home" which was part of the motivation to purchase a motorhome and begin making memories on the road with our family.
5
Membre Outdoorsy
Hôte depuis juin 2020
---
---
Taux de réponse 100 %
Répond généralement en moins de 6 heures
---
Souvenirs de séjours avec les camping-car de Weston Cordon
---
Weston & Allie are extremely personable, professional and take pride in delivering a wonderful experience for their guests. They were flexible with our last-minute booking request, communicative throughout the entire process (from booking logistics to finalizing our trip's paperwork), and extremely organized with all of their materials provided upfront to streamline the RV hand-off (providing a travel checklist and a comprehensive ~1.25 hr video that you could review at any time). We also had a couple hiccups during our trip (all our fault) and Weston was readily available to help. We highly recommend their beautiful RV and hope to use again in the future.
Super helpful and accommodating. Weston was delightful to work with and the RV was perfect for what we needed. Look forward to doing it again!
This was our first outdoorsy experience and it hard to imagine it could go any better. The RV was amazing. Weston was friendly, available, and helpful throughout our rental. The RV was equipped with everything we needed, from bedding to dish ware and everything in between. We had the most AMAZING time. Our family will remember this trip forever.
I rented Enzo from Weston in crunch time for a trip to Las Vegas. Weston was communicative with his rental. The one thing I will say to anyone looking to rent this, WATCH THE VIDEO if you book. It made the drive and ease of use 10x better. It's there for a reason, utilize it.
We had so much fun in Enzo for our family trip! Weston was so kind and so helpful through everything and so patient with us.
1 Photo soumise(s) par Colton M.
Weston and Allie are amazing to work with, highly recommend!
We camped in the snow! It was colder than we thought, but we made some adjustments with the freezing temperatures and still had fun. Weston was really supportive and helped us a ton during the process, he was an excellent host.
We had such a fun family trip in this RV! The video Weston made was so informative and saved us so much time at pick up and we were able to refer back to it when we needed to.
Great RV, great host and hostess. Weston was excellent to work with and made our trip outstanding !! Thanks for all you did.
The Cordons did everything possible to help us make our vacation memorable. The Enzo is a wonderful RV and we would definitely use it again.
Gheorghe O.
5•juillet 2021
Weston is a great RV owner. He prepared the RV very nice, he presented us with a movie that explained in detail how everything works. Before the trip and during the trip he was very responsive with any questions we had. The RV is nice, spacious and very clean. We would gladly recommend Weston and his RV for anyone that wants to have a great trip on West Coast.
12 Photos soumise(s) par Gheorghe O.
Excellent equipment, Fridge and freezer were superb, plenty of space for each person in our party to place personal things. Beds were comfortable. Two bathrooms with showers were a big plus! Renting was made easy with a great instructional video, step by step updates to get ready and wonderful owner assistance from Weston! He took our questions in stride and responded with good directions each time. Recommended for large groups wanting to get away together while having comfort and luxury too.
Weston was great from the day I booked to the day I returned. He was there to help ever bit of the way.
Really outstanding service. Our family of five, plus an aunt and uncle had a really fantastic time in southern Utah in this RV.
We had a perfect RV trip, Weston and Allie were so helpful and nice before, during, and after our trip. The RV was in top shape. The 2 bathrooms were a boon to travelling with 2 families. We highly recommend renting this RV!