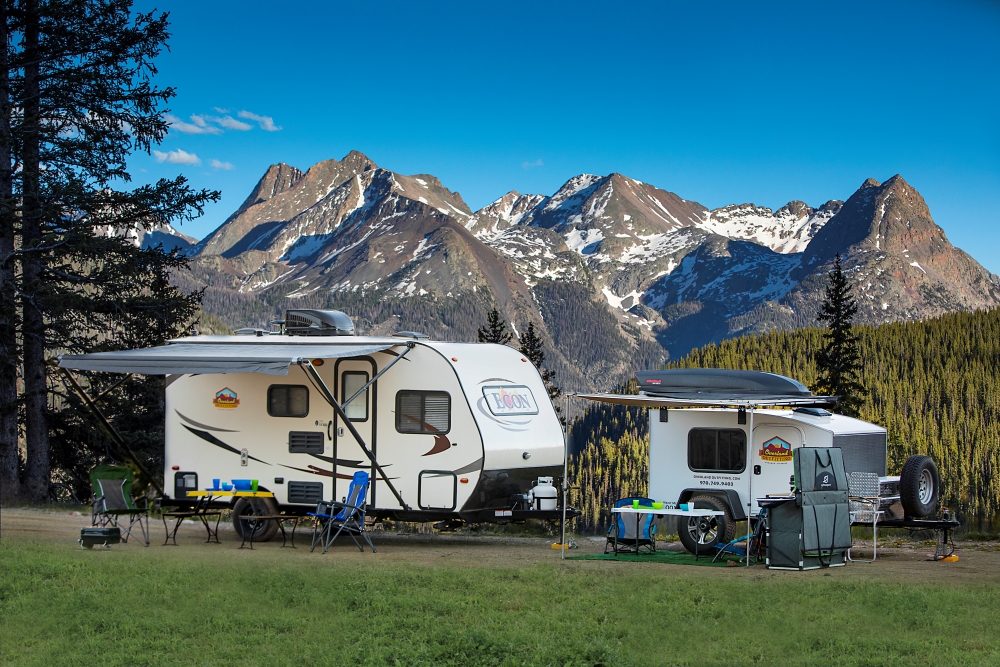 5
Membre Outdoorsy
Hôte depuis December 2019
---
---
Taux de réponse 100 %
Répond habituellement en moins d'une heure
À propos de Frederick Hutt
At Overland Outfitting we aim to provide affordable camping accommodations to like-minded friends and neighbors who appreciate the adventure and freedom you gain when camping, but simply need it to be less of a hassle. In this spirit we offer simple, lightweight campers that can be configured with your choice between Basic, Deluxe and Premium Add-On packages that allow you to strike a balance between your budget and your needs, without having to endure a laundry list of endless options. Get yourself ready to go!
5
Membre Outdoorsy
Hôte depuis December 2019
---
---
Taux de réponse 100 %
Répond habituellement en moins d'une heure
---
Souvenirs de séjours avec les camping-car de Frederick Hutt
---
Very fun and practical trailer. Enjoyed trip. Owner was easy to work with and excellent communication on both trailer and reservation.
Another great experience working with Fred and using his HikerTrailer. I toured through the San Juans with no problems. The drop off and pick up by Fred was again seamless. I look forward to using it again yet this year! Thanks Fred!!
We had an absolute blast with Fred's Hiker Trailer. It was very cream by my wife's standard. His instructions were clear and he was forcible and kind. We're looking forward to possibly using the trailer next weekend! Thanks, Fred!
7 Photos soumise(s) par Dan K.
Fred was extremely organized and had everything packed that we needed. He met us perfectly on time, both in and out going. Couldn't be happier with the camper. Well stocked and super clean and functional! Perfect for a quick camping get away. We had three poodles with us of various sizes and all of us fit perfectly in the trailer. Shower addition was wonderful!
1 Photo soumise(s) par JANE Beth B.
Fred was awesome to work with from start to finish. We had a great week camping in Fred's Hiker Trailer, which was well equipped and totally met our needs. Fred was very responsive to all of my questions and gave me a thorough walk-through to explain how everything worked when I picked up the trailer. I will definitely be a return customer!!
1 Photo soumise(s) par Laura M.
Fred did a awesome job of walking me through the process and how everything worked on the RV. Had a great camping trip and this Hiker Trailer is one comfy trailer. Can't recommend it more. You will have a great time.
We had a fantastic trip and Fred's trailer was a key factor in that. He was very responsive to my messages and questions and a pleasure to work with. His trailer is top notch and I HIGHLY recommend using it to anyone looking for a great trip.
3 Photos soumise(s) par Doug Q.
My experience with Fred was top notch I couldn't have been happier! It was hassle and stress free! Definitely recommend Fred's company to anyone who wants to rent a trailer.
1 Photo soumise(s) par Frank S.
This was such a great experience! Fred provided all the equipment and information we needed to make our trip easy and worry free. 100% would recommend!
2 Photos soumise(s) par Alison B.
Fred was so awesome to work with! He was very informative and made sure to do a complete walk through of the trailer and it's amenities. He was easy to get a hold of, responses to us quickly and was very friendly. We really loved the trailer and it was exactly what we wanted and needed for a weekend camping trip. It was very easy to tow with our Subaru Outback. We will definitely be renting with Fred again!